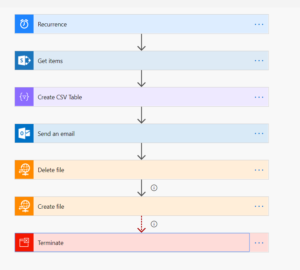 A very simple flow. Get some items , create a csv file Send as an email, and use standard FTP to post to a publishing server running LAMP. This is part of my attempt to make simple integrations between Office365 and both Joomle, WordPress and other web solutions using simple methods and old NETSCAPE portal thinking.. sort of …
Took me 10 minutes to get flow up and running, and 3 days to make it work… To transfear 2 Kb of updates , it used more than 38 minutes ! When I looked at the file it was oscillating between 0 and 2 KB . Sometimes it was almost ok, mostly not.
Connectors in Flow , can be configured as connectors under settings on flow dashboard, what took me so long was that the specific settings used on each operation are stored in that operation itself .
«Large messages may be split up into many smaller requests to the connector to allow large message upload and download. Details can be found at http://aka.ms/logicapps-chunk.»
And the limit before this should trigger is 50 MB , but that is not true…
It chunked my file all the time, and crashed transfer, and restartet … again… and again…
Turning CHUNKING of , reduced upload time from 38 minutes o 12 seconds…